Almost three-quarters of investments support disadvantaged and low-income communities and households  
WHAT TO KNOW: In 2022, California Climate Investments – which are funded by Cap‑and‑Trade proceeds – implemented $1.3 billion in projects throughout the state to cut pollution, create jobs, get people into ZEVs, conserve and restore land, improve public health, and more.
SACRAMENTO – California has released the annual report for California Climate Investments, which in 2022 implemented nearly 19,500 new projects through $1.3 billion in funding, with $933 million directly benefiting disadvantaged communities and low‑income communities and households.
In 2022, 74% of investments – almost $1 billion – supported communities and households facing greater economic and environmental challenges. The 2022 investments are expected to cut 10.4 million metric tons of pollution over the course of the projects.
The state has invested more than $9.3 billion under this program statewide since 2014, which has:
Planted more than 20 million trees in urban and wildland areas
Conserved or restored 891,000 acres of land
Funded 10,300 affordable housing units
Implemented 1,060 projects expanding or creating new transit services
Supported employment opportunities with over 21,300 jobs
Issued more than 427,500 rebates for zero‑emission or plug‑in hybrid vehicles
Along with the report, the California Air Resources Board also released Legislative District Fact Sheets and updates to the Project Map, interactive Story Map and Data Dashboard. New Project Profiles also highlight narrative stories for individual projects.
SPOTLIGHTING PROJECTS
Mapping out where these projects are:
Here are five projects throughout the state:
Affordable Housing in Riverside – The Strategic Growth Council provided $16.8 million to support construction of 72 units of affordable housing and commercial space adjacent to a new regional multi-modal hub in downtown Riverside. The space also hosts the headquarters for the new Civil Rights Institute of Inland Southern California and increases the urban tree canopy with 250 new shade trees.
Sequestering Carbon Through Land Management and Tribal Partnership – This project supported the restoration of 500 acres of habitat at Van Norden Meadow, a place of historical significance for the local Washoe Tribe. More than 34,000 metric tons of CO2 equivalent will be captured, while also improving community access, bolstering climate resiliency, and improving conditions for wildlife. The project was made possible by $3.9 million in funding from the California Department of Fish and Wildlife's Wetlands and Watershed Restoration Program, the South Yuba River Citizens League, and the Washoe Tribe and federal, state, local, and nonprofit partners.
Clean Mobility Solutions Support Seniors in Chula Vista – The City of Chula Vista launched an all-electric, on-demand community shuttle serving the local senior community. Many in the community cannot physically drive or afford to drive. The project was made possible in part by a nearly $1 million grant from CARB's Clean Mobility Options Program, and is making transportation easier, cleaner, safer, and more affordable with four zero‑emission vehicles, one of which will be American Disabilities Act accessible.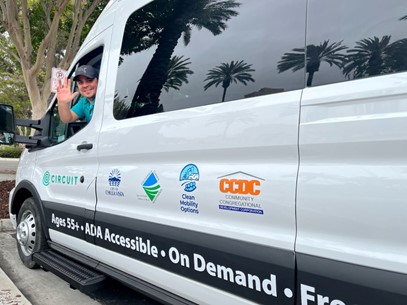 Protecting Forests from Catastrophic Fire – Forest resiliency projects helped protect some of the world's most iconic trees near the Mariposa Grove in Yosemite National Park from the 2022 Washburn Fire, thanks to a $2 million grant from CAL FIRE's Forest Health Program. Fuels reduction work done through a partnership between Mariposa County Resource Conservation District, the National Park Service, and local tribal forest crews reduced the fire's severity and helped firefighters protect the giant sequoia grove and nearby community of Wawona.
Addressing Community-Identified Needs through Electrified Transit in Commerce – Commerce has a new zero-emissions dial-a-ride shuttle and zero-emissions weekend bus service, requests that were made directly by residents as part of a community outreach process thanks to more than $3 million in funding from a Sustainable Transportation Equity Project. The funding also supported 400 new trees to shade pedestrian pathways and the installation of the city's first bike lanes.
# # #