WHAT YOU NEED TO KNOW: From holding Big Oil accountable and achieving climate goals ahead of schedule to partnering with governments to fight climate change and calling out oil industry lies on the world stage, California showed the world what real climate action looks like.
SACRAMENTO – Governor Gavin Newsom and First Partner Jennifer Siebel Newsom wrapped up their trip to New York for Climate Week yesterday, capping four days of showcasing California's ambitious climate action on the world stage.
Holding Big Oil Accountable
Governor Newsom and Attorney General Rob Bonta announced Friday that California is suing Big Oil for more than 50 years of deception, cover-up, and damage that have cost California taxpayers billions of dollars in health and environmental impacts.
The Governor spoke with The New York Times' David Gelles following the announcement, saying: "The climate crisis is a fossil fuel crisis… and these guys have been playing us for fools."
Climate leaders from across the country were quick to praise California's leadership in suing Big Oil.
"California's case is the most significant, decisive, and powerful climate action directed against the oil and gas industry in U.S. history," said Richard Wiles, President of the Center for Climate Integrity.
On the World Stage
Yesterday, Governor Newsom addressed the United Nations Climate Ambition Summit, where he again called out the oil industry for its role in the climate crisis: "This climate crisis is a fossil fuel crisis. This climate crisis persists. It's not complicated. It's not complicated. It's the burning of oil. It's the burning of gas. It's the burning of coal. And we need to call that out."
Also during the week, the Governor met with Under2 Coalition co-chair Premier of KwaZulu-Natal Nomusa Dube-Ncube. The coalition is the largest global network of states and regions committed to achieving net zero emissions by 2050 at the latest. Governor Newsom also met with Ambassador of China to the U.S. Xie Feng, a critical meeting ahead of the Governor's planned trip to China in October, and Minister for Environment of Brazil Marina Silva.
On Monday, the Governor held a bilateral meeting with Executive Vice-President of the European Commission, Maroš Šefčovič. The two discussed the EU's goal to become the first climate-neutral continent by 2050.
Doubling Down on Building More, Faster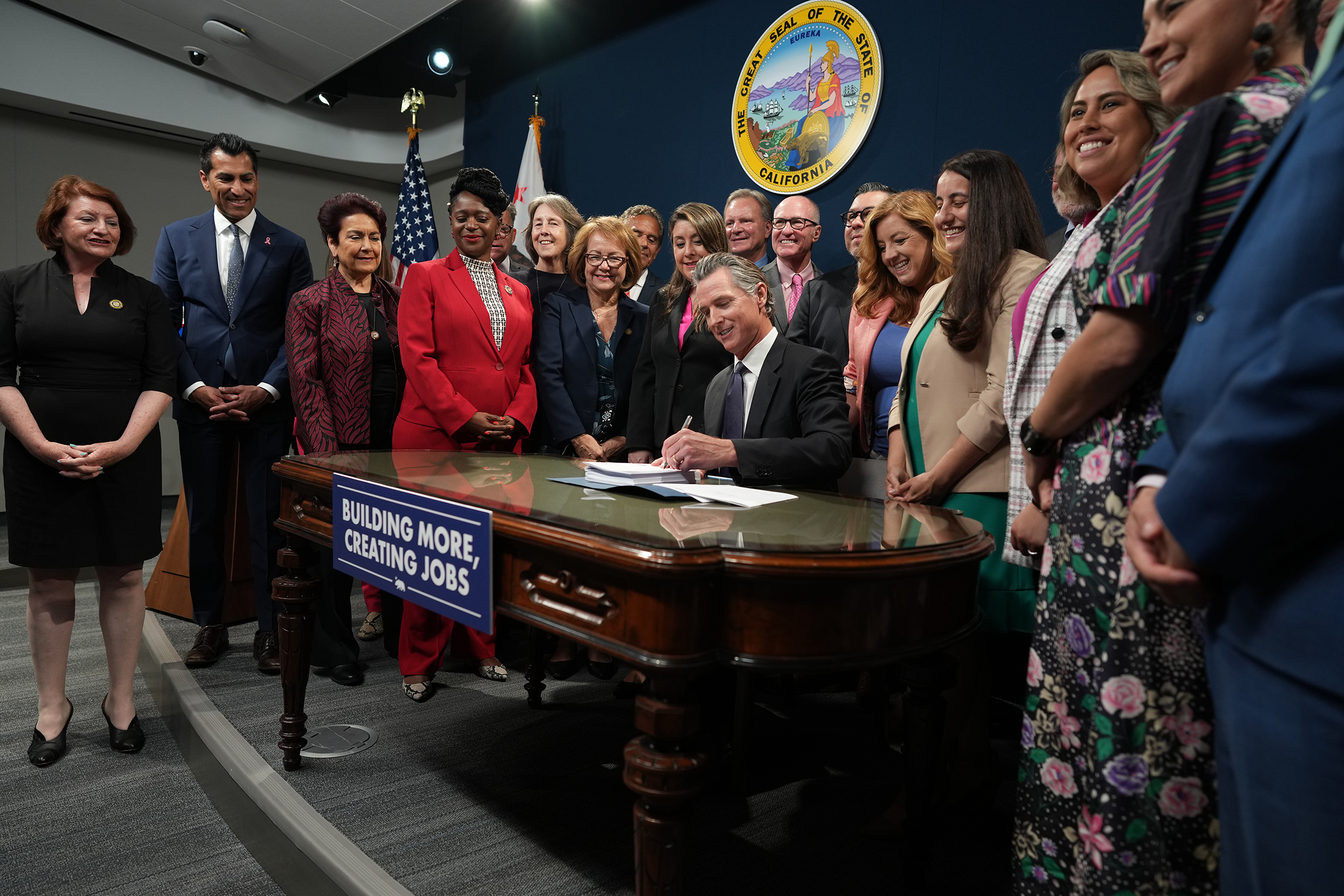 As Governor Newsom met with world and national leaders, he shared how California is working to build more, faster to achieve its world-leading climate goals.
The Governor's focus on building as a solution to the climate crisis represents the next important phase in reaching our ambitious climate goals. We have to build more, faster, and say 'yes' to climate-smart projects that support the state's goals of net-zero emissions and achieving 100% clean electricity.
Enlisting Governments in the U.S. and Around the World in Climate Fight
Yesterday, a bipartisan group of five states representing more than a fifth of the United States by population announced they're joining California in launching their own Climate Action Corps – a major milestone in delivering climate action at the community level. While in New York, the First Partner convened climate activists, food systems advocates, philanthropists, and government leaders for a discussion, hosted by the California Volunteers Fund and the Alice Waters Institute, about California's work to transform school food, bolster local economies, and mitigate climate change impacts through the California's Farm to School program.
Also yesterday, Governor Newsom announced California is launching a new pledge for governments around the world to commit to cutting global methane emissions, one of the worst climate pollutants. Seven jurisdictions from across the globe have signed on so far, including signatories from Mexico, South Africa, Brazil, Nigeria, and India.
Additionally, California signed on to new commitments with the United States Climate Alliance, a bipartisan group of 25 states, to tackle emissions from buildings and increase heat pump installations, especially in disadvantaged communities. The coalition, which California co-founded, aims to install 20 million heat pumps by 2030 – building on the Governor's goal set last year of 6 million by 2030.
Governor Newsom and the First Partner spent some time at the Clinton Global Initiative – a convening of global leaders to create and implement solutions to the world's most pressing challenges. On Monday, the Governor participated in a roundtable discussion on accelerating global partnerships at the Clinton Global Initiative with President Bill Clinton. Also at the Clinton Global Initiative, which meets during Climate Week, the Governor participated in an important discussion on the care economy with Secretary Hillary Clinton and Ford Foundation President Darren Walker. On Tuesday, the First Partner participated in a panel discussion on how California is working to support children's physical and mental well-being amid a changing climate.
Charging Ahead With ZEVs
On Monday, Governor Gavin Newsom announced California achieved its goal to install 10,000 fast chargers for electric vehicles more than a year ahead of schedule, just a week after the state announced new efforts to quickly deploy EV chargers in communities most harmed by pollution and the Legislature approved nearly $2 billion for EV charging infrastructure.