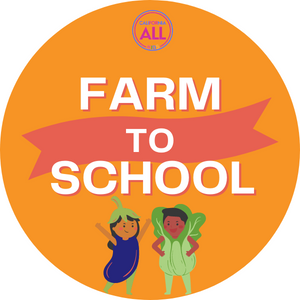 California's Farm to School Program
First Partner Jennifer Siebel Newsom championed efforts to establish first-in-the-nation state funding for universal school meals for all public school children in California and led the work to develop the innovative California Farm to School initiative. Farm to School works in tandem with universal school meals to ensure more and more of California's two free school meals are locally-sourced, delicious, and nutritious.
California Farm to School initiative is an interagency, multi-pronged effort to reimagine school meals while benefiting students, the environment, local farmers, and local economies. Farm to School is a win-win for California communities and will help support a more sustainable future in California.
Learn more about California Farm to School here.
Why Farm to School?
Today, over 2 million children in California do not have access to healthy, whole foods, with Black and Latinx children reporting food insecurity twice that of children in white households. We know that schools are key sources of food for children — approximately 3.9 million California students were eligible for free or reduced-priced lunch during the 2019-2020 school year. Given California's recent investment in universal school meals and its unparalleled agricultural production, the state is uniquely positioned to build a healthier, more equitable future through innovative farm to school programs, which help:
Increase food access and nutrition security.
Support local food purchasing from California producers.
Promote educational activities that use food as a teaching tool to connect classrooms, cafeterias, and communities.
Create experiential learning opportunities in school gardens, culinary classes, agricultural programs, and other hands-on learning experiences to help youth better understand the connections between food and the world around them.
Educate students about how they can be environmental stewards from the earliest of ages.
Report: Planting the Seed
Building on her commitment to ensuring California children have the best start in life, First Partner Jennifer Siebel Newsom announced the release of a new report, Planting the Seed: Farm to School Roadmap for Success, in February 2022. The report highlights policy goals to advance child well-being, economic growth, environmental resilience, and racial equity through farm to school systems that connect children to locally sourced, whole foods and produce in cafeterias, classrooms, and gardens. The report and its recommendations are the result of a collaboration — led by First Partner Jennifer Siebel Newsom and California Department of Food and Agriculture Secretary Karen Ross — among a number of state agency leaders, education professionals, and farm to school experts and practitioners.
The Benefits of Farm to School
Healthy kids and vibrant communities start with farm-fresh, nutritious meals. Through farm to school programs, schools purchase food from local farms, offer students food education, and deliver hands-on learning opportunities that support students' academic achievement, health, and wellbeing. Research shows that: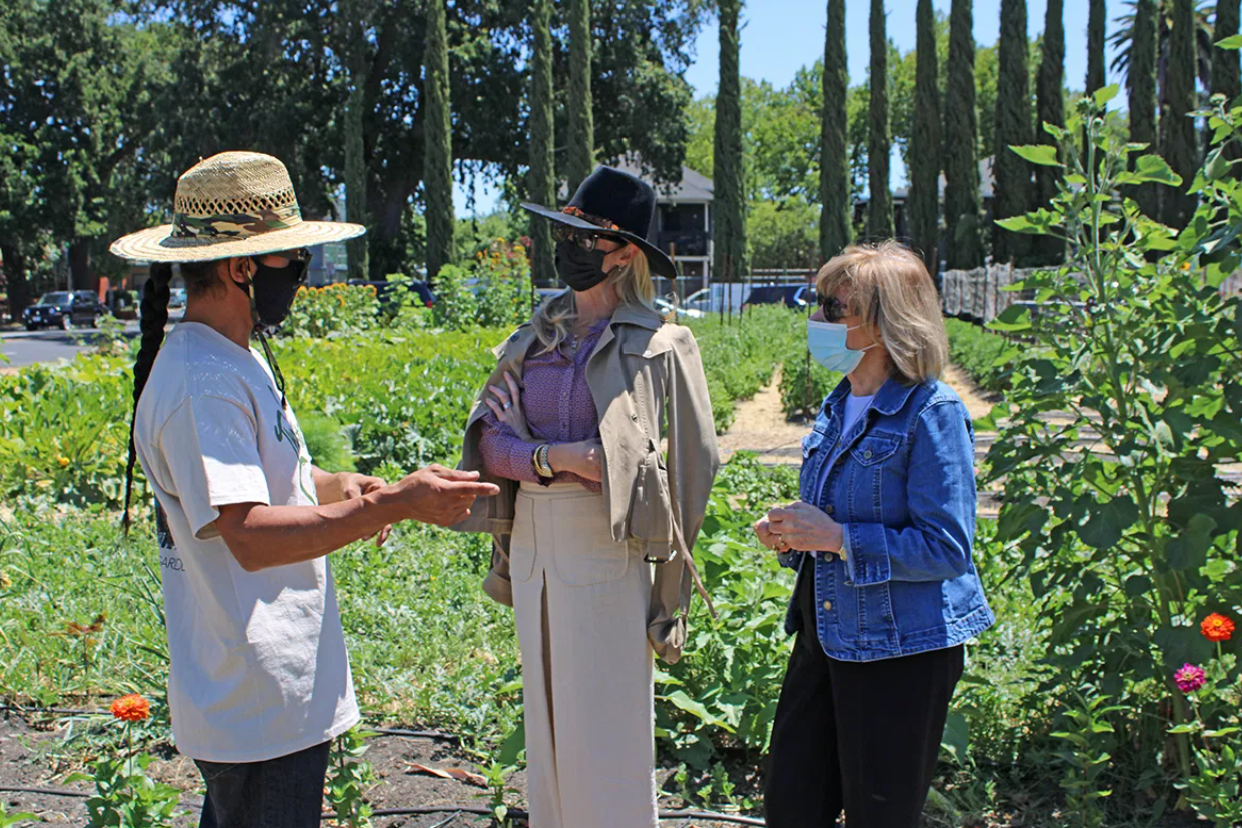 California Investments in Farm to School
Under the leadership of First Partner Jennifer Siebel Newsom, Governor Newsom and the California State Legislature allocated $60 million over two years in the 2021-2022 state budget to sustain and expand the California Farm to School Incubator Grant Program, which connects local producers and school food buyers; increases food education in classrooms, gardens, and on farms; and engages schools and students with the agricultural community.
The 2022-2023 state budget strengthened this investment with an additional $30 million in funding for farm to school demonstration projects at priority, high-need schools, and includes $600 million in funding available over three years for school kitchen infrastructure upgrades and equipment, food service employee training, and compensation for work related to serving universal meals using more fresh, minimally processed California-grown foods.
How California's Farm to School Program Developed
First Partner Jennifer Siebel Newsom and Secretary of the California Department of Food and Agriculture Secretary Karen Ross assembled a broad coalition of stakeholders and practitioners who are engaged in farm to school, committed to its success, and ready to implement programs and policies to transform its future.
The goal was to develop a ground-up approach to policy and programmatic recommendations whereby state leadership could hear ideas, receive feedback, and collect recommendations from the people directly engaged in farm to school. As a critical first step, the First Partner and Secretary Ross brought together state government leaders with jurisdiction over the several intersecting issues impacted by Farm to School – education, health, labor, and the environment:
Jared Blumenfeld, Secretary, California Environmental Protection Agency
Julie Su, Secretary, Labor and Workforce Development Agency
Linda Darling Hammond, California State School Board
Mark Ghaly, Secretary, California Health and Human Services Agency
Tony Thurmond, State Superintendent of Public Instruction
To guide a deep dive into these complex issues with interagency working group members, the First Partner and Secretary Ross established an Advisory Committee consisting of the state's leading farm to school practitioners and food system experts.
This Advisory Committee included:
Rachelle Arizmendi, Pacific Asian Consortium in Employment
Santana Diaz, UC Davis Health
Paula Daniels, Center for Good Food Purchasing
Keir Johnson-Reyes, Intertribal Agriculture Council
Kristina Kraushaar, Rialto Unified Nutrition Services
Anna Lappé, Real Food Media
Craig McNamara, Sierra Orchards
Andy Naja-Riese, Agricultural Institute of Marin
Fausat Rahman-Davies, Rialto Unified Nutrition Services
Kathy Saile, No Kid Hungry California
Mohini Singh, Turlock Unified Culinary Teacher
Jai Sookprasert, California School Employees Association
Kat Taylor, TomKat Ranch
Alice Waters, Edible Schoolyard